There a big and growing demand for aluminum coils across the world. The demand at times outstrips supply and therefore finding the right suppliers is important. China is one of the most important suppliers of aluminum coils. There are many big companies, but there is something special and unique about YOCON Aluminum Company. They are one of the biggest aluminum coil suppliers in the country and there are many reasons for this. We will look at some of the main reasons as to why YOCON Aluminum Company is counted as a leading China Aluminum manufacturer.
Big Investment
It would be pertinent to mention here that YOCON Aluminum Company has invested of around 1.6 billion USD and it has around 5,000 employees. It has a total annual capacity of around 400,000 MT. Further, we also need to take into account the fact that YOCONs total capacity including that of Henan Longdong Co and Al Erie-Dingsheng Aluminum Co. Ltd will be around 700,000 MT, when both these manufacturing facilities become fully operational. Hence, within the next few years YOCON Aluminum Company will have a total capacity of around 1 million metric tons.
The Best Of Infrastructure And People
The company was started in the year 2003, and it covers an area of around 1000 acres. It has a registered capital of around 52 million dollars. The entire factory of YOCON Aluminum Company is spread over an area of 1000 acres and in this factory alone there are around 2000 people working. Technical staff alone account for 30% of the employees.
The company over the past sixteen years has been instrumental in producing some of the best quality aluminum belt, foils and alloy plates amongst other products. The company is headed by a professional who has rich experience in this field.
What Are The Main Products Manufactured?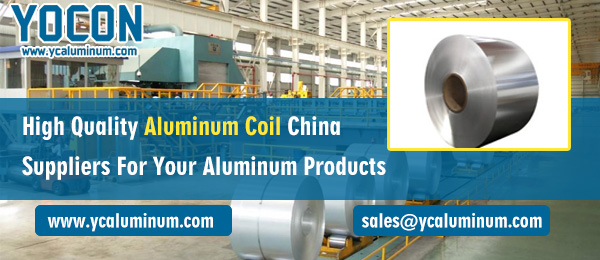 Apart from being a top class and quality aluminum coil provider there are a host of other products. It is one of the largest manufacturers of aluminum foil, strip, sheet and also coating material. Further, they are also capable of manufacturing deep processed products including foil, air conditioner foil, oxide board, aluminum foil that is suitable as a decorative element and much more. This perhaps will be one of the few companies that also will be able to make high quality air conditioner refrigerator evaporator, condenser and so on.
These are commonly used in electronic communications, medicine, transportation, for real estate buildings, printing and stationery, chemical manufacturing and a host of other industries and end-user applications.
Focus On Quality
The reason for the growth of this company could be attributed to various reasons. The main equipment that is used for testing, research and of course for production are imported from advanced countries like Germany, Japan, Italy and a few other countries. Further, when it comes to manufacturing, the company is trusted and relied upon because it uses the best of technology. The best of testing, and other quality standards are gone through.
The company has the prestigious ISO9002 certification way back in 2001 and this certainly is big news. It also would be pertinent to mention that the company is implementing the best of ERP management processes and procedures.