YOCON Customers' from Pakistan visit our factory. Which we have a long-term cooperation with these Pakistan Customers. Providing high quality Aluminum Sheet and Foil products for them with competitive price and excellent service.
Looking for reputable aluminum sheet suppliers in China? Look no further! At YOCON Aluminum, we specialize in manufacturing high quality and affordable aluminum items. Among the many aluminum products manufacturers available we are the leading in the industry and one of the top aluminum foil suppliers in the world. Our goal is to serve our local and international customers with the highest quality possible aluminum products that are extremely dependable and affordable. Contact us today to learn more about our aluminum items or for any other assistance you require.
Our Products
Since our inception, we've always strived to maintain the highest standards possible. We have invested in premium tools and equipment and we use state-of-the-art technology to make sure our products are unequalled. We specialize in manufacturing an extensive array of aluminum items including aluminum coil, aluminum sheet, aluminum foil, and color coated aluminum. Our products are tailor-made to ensure you get the best styles and designs that suit your needs and wants. Whether you are in Pakistan or in any other place in the world, call us today and get customized aluminum sheet from the best manufacturer of aluminum items in the world.
The Best Aluminum Products Manufacturer and Supplier
Here at YOCON Aluminum, we've earned our sturdy reputation in the industry by offering creative goals backed by exceptional workmanship and premier items to our cherished customers. Our friendly and incredible staff strives to ensure the highest quality possible is achieved and our customers are happy and pleased with our services. Turn to our comprehensive array of aluminum items if you want to take your business to the next level.
Premier Quality Aluminum Products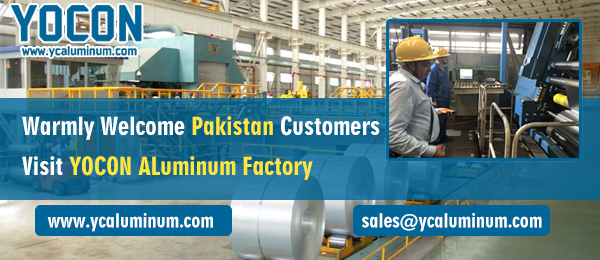 Our motive is to produce the highest quality possible products to ensure our customers get what is worth their budget. At YOCON Aluminum, our items are manufactured by highly skilled and experienced technicians who apply top-notch skills and state-of-the-art tools to ensure the best quality is produced. From aluminum foil to aluminum sheet, call us now for quality and durable products.
Exceptional Customer Care
Our friendly customer support team will do everything possible to make sure you're happy and pleased with our products and services. We go above and beyond our customers' expectations to make them get what they deserve. Schedule an appointment today and we will be glad to handle all your needs.
Licensed and Insured
YOCON Aluminum is a fully licensed manufacturer and supplier of aluminum items. Choose us as your aluminum sheet supplier and get incredible services and products from a legit manufacturer that is permitted to make aluminum items by the Chinese government.
We have an insurance that protects our services and products. We are insured to make sure you are not accountable for any faulty happenings that may occur accidentally. If you suffer damages once you order our items, we'll bear the loss resulting and you will be compensated instantly.
Prompt Delivery
Here at YOCON Aluminum, we offer delivery services and the items you order from us will be delivered right to your door step within the shortest time possible. Order our aluminum items today and you'll get them ASAP while you are at the comfort of your home.
Call for a Free Estimate
If you are in Pakistan and wish to know more about the other items we manufacturer or if you want to place an order, contact us immediately and get a free consultation and estimate.