Aluminum is one of the most amazing materials on the earth. It can be transformed into different things that can be used for several benefits. One of the most used forms of aluminum is the aluminum mirror sheet which can be found in different range of reflectivity, price and thickness. This can be for different decorative purposes and other necessities. Of course, you need to buy the most durable and superior quality aluminum mirror sheet for your residential, commercial or industrial uses. YOCON Aluminum is one of the best and most superior quality aluminum mirror sheet suppliers in China.
There is no doubt that a superior quality mirror aluminum sheet must go through several methods including rolling and grinding to get the best result. These sheets can be classified into various types such as 800 standard polish, 890 super high polish and 850 high polish. All these variants depend on the methods used for the surface processing. Various types of alloys ranging from 1060 to 3003 are used for manufacturing the end result of aluminum mirror sheet. The thickness of this sheet varies from 0.28 mm to 1.60 mm with a width of 30 mm to 1250 mm.
Some of the standard sizes of the aluminum sheets by the best aluminum sheet China manufacturers are 1000 by 2000, 1200 by 2400 and 1220 by 2440. You can also ask for customized sizes if required. For any customized size of the aluminum mirror sheet, you can contact the YOCON Aluminum. They are one of the most reliable and well-known aluminum mirror sheet manufacturers and suppliers in China. They have their own factory in China. They provide the best quality aluminum sheet with superior grade. They guarantee extreme durability and sturdiness as well.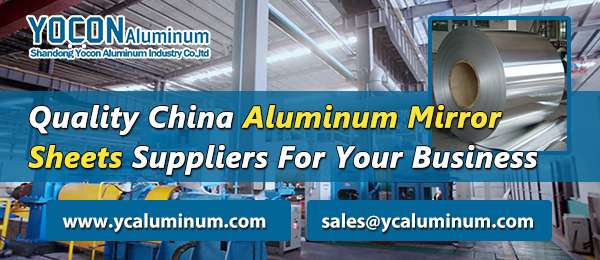 Why to buy from YOCON?
The advantages offered by the YOCON Aluminum are endless. They offer great surface quality which will be free from any oil stain, scratches or dents. They are generally resistant to dirt, corrosion and other stains. Also, you can expect a highly durable aluminum sheet with a long lasting impression. The reflective rate may vary from, 75% to 86%.
Being one of the most exquisite and high-end manufacturers and suppliers of aluminum mirror sheet, YOCON Aluminum provides the best quality sheets. Besides that, the aluminum sheets have smooth surface which makes it easier to clean. It also shines bright. The material is light in weight with environmental protection and energy saving features.
Conclusion
So, if you are looking for one of the best aluminum sheet suppliers, then YOCON Aluminum is definitely the best choice for you in China. Moreover, the aluminum mirror sheets are highly durable and can be used for various purposes. Some of the most common applications of these sheets are as reflector, indoor decoration, car lights, LED lights and cookware utensils. Hence, this can be used in different industries for different purposes. To ensure that the products are best, you need to buy the best and highest quality aluminum mirror sheets too.